Vegan Chocolate Almond Pudding Recipe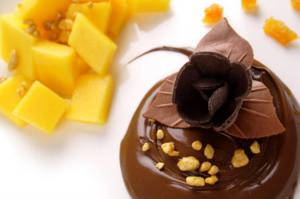 Ingredients for Vegan Chocolate Almond Pudding Recipe
3 cups soy, almond or rice milk
1/2 cup cocoa powder or vegan baking chocolate
1/2 cup maple syrup
3/8 cup cornstarch or arrowroot starch
1/2 teaspoon almond extract
1/8 teaspoon vanilla extract
Almond slivers for garnish (optional)
Instructions
Combine all ingredients in a saucepan, except for the almond and vanilla extract. Gently simmer ingredients over medium heat; stir until chocolate pudding is thickened.
Stir in the almond and vanilla extracts; pour pudding into serving bowls and chill for 30 minutes in the freezer.
Garnish pudding with almond slivers and fresh fruit, if desired and serve.